PLACES FOR THE MANCHESTER TRAINING DAY ARE STILL AVAILABLE AND PEOPLE ARE WELCOME TO TURN UP AND PAY ON THE DOOR. THE ONLINE BOOKING SYSTEM IS NOW CLOSED.
Many Christians have a desire to communicate the gospel to their non-believing friends or colleagues, but few feel well-equipped or confident to do so. It can be difficult to know how best to approach some of the strong objections that people have about faith, as even bringing up the topic can sometimes provoke a hostile reaction. What should we say, for example, to someone who does not believe in God because of the suffering and evil in the world, or to someone who argues that the Christian faith does not make any rational or philosophical sense? How do we even begin to approach the topic with someone who seems completely closed off to the gospel message?
Speaker Bios
Os Guinness

Os Guinness is an internationally acclaimed Christian author and social critic. He is Senior Fellow of the Oxford Centre for Christian Apologetics with a doctorate in social sciences from the University of Oxford. He has written or edited more than twenty-five books including Steering through Chaos: Vice and Virtue in an Age of Moral Confusion, Time for Truth: Living Free in a World of Lies, Hype, and Spin and (his latest) A Free People's Suicide. Os has been a Guest Scholar at the Woodrow Wilson Center for International Studies, and Visiting Fellow at the Brookings Institution, both in Washington DC, and most recently a Senior Fellow at the EastWest Institute in New York. He has been a frequent speaker and seminar leader at political and business conferences in the United States, Europe, and Asia. He lives with his wife Jenny in McLean, Virginia.

Vince Vitale

Vince Vitale is a Christian educator and communicator who is involved with training evangelists in his role as Senior Tutor at the Oxford Centre for Christian Apologetics. He has a doctorate in Philosophy from the University of Oxford focusing on the problem of evil. He was a lecturer in Philosophy and Religion at Princeton University where he committed his life to Jesus Christ as an undergraduate. He later served as Director of Athletes in Action Christian Fellowship. Vince has a passion for the intersection of faith and sport. He played varsity soccer at Princeton and has been awarded Oxford Blues in both football and boxing. He has travelled with Athletes in Action mission teams to four continents and researches in ethics, epistemology, and the philosophy of religion. Vince lives with his wife Jo in Oxford.

Nancy Gifford

Nancy Gifford joined RZIM Europe in 2011 to develop a Media Unit at The Oxford Centre for Christian Apologetics. As an experienced television documentary Producer/Director, Nancy has filmed worldwide for the BBC and Channel 4 and, after moving to Boston was part of a team that won a Peabody Prize for the 26-hour historical series People's Century (BBC/PBS). She also worked as a Producer on PBS's flagship public affairs programme Frontline. Recently she was a Producer on Sergio, a HBO/BBC feature documentary shortlisted for best documentary at the 2010 Academy Awards and was a winner at the Sundance Film Festival. Nancy brings a vision to develop effective strategies to engage the UK mainstream media in presenting reasons for faith in a compelling manner.
---
Current Schedule
9.00-9.25 am
Registration and Coffee
9.30-9.40am
Welcome
Nancy Gifford
9.40-10.00am
Worship
10.00-11.00am
The Hardest Conversations
Os Guinness
11.00-11.30am
Refreshments Break
11.30-12.30pm
The Hardest Convert
Vince Vitale
12.30-1.30pm
Lunch
1.30-2.30
The Hardest Challenge
Os Guinness
2.30-3.00pm
Coffee Break
3.00-4.30pm
Open Q&A/Discussion
Os Guinness and Vince Vitale
(*Please note: Programme may be subject to some minor amendments.)
---
Extra Information
Parking and directions
Parrs Wood High School, Didsbury, Manchester, Lancashire M20 5PG.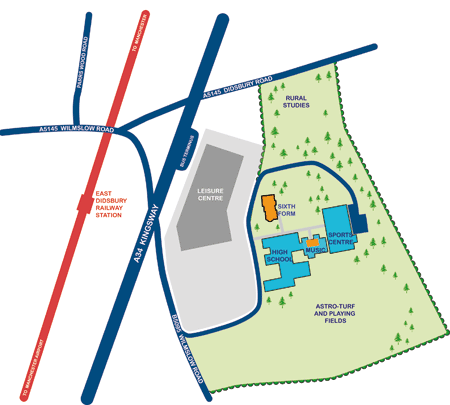 Getting to the venue
The venue is Parrs Wood High School, situated in the Manchester suburb of Didsbury, close to the city centre and also to Stockport and the M60 and M56.
Car parking
Car parking is available.
Rail routes
From Piccadilly Rail Station head south onto London Road (A6) towards Whitworth Street. Turn right onto Grosvenor Street the left onto Upper Brook Street (A34). Continue until you get to the roundabout and take the 1st exit to Moseley Road (A34). The at the next roundabout take the 2nd exit onto Kingsway (A34). Turn left then right. Parrs Wodd High School will be on the right.
Bus routes
There are regular buses to this venue. You will need to catch a bus on the number 42 bus route. This route includes the number 142 and the number 157 buses.
When to arrive
Registration starts at 9.00am, with the Welcome, Introduction, and Worship session starting at 9:30am.
What to bring
We will supply all materials (pens, paper, etc.). We will also be hosting a book store where purchases can be made with cash or cheque.
Lunch
All delegates will receive a cooked lunch. There will be a vegetarian option available.
Terms and conditions
Click here to view RZIM's Terms and Conditions